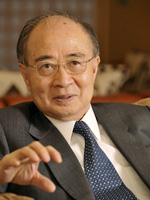 For mutual understanding
between Japan and Asia
and Asian development
Honorary Director
Yasushi AkashiThe era of globalization has seen changes occur in the major players in the international arena. There is even the possibility that the least developed countries can even "leap-frog" countries which have previously established technology and infrastructure base. Asia's Newly Industrial Economies (NIEs) embody this phenomenon. It is now time to amend the Meiji-era slogan "脱亜入欧 datsua-nyuuou" (Out of Asia, into Europe). Our new target requires humility and the ambition to learn from Asia. It may be easier to maintain close relationships with distant nations than establish reliable relations with those nearer home.


Nevertheless, we have to start to live together with neighboring countries. We have to overcome unilateralism and homogeneous thinking and develop a flexible policy. We have to be generous to others, while not forgetting our own culture, traditions or history.


Educating youth with an international perspective is a mission given to universities in the era of globalization. A university, with a number of foreign students from Asian countries, is itself an ideal venue to promote the potential for mutual understanding. It is necessary to further acknowledge Asia, and deepen interaction in academic research in a variety of fields. There will be a growing need to maximize academic potential and contribute to Asian development. I sincerely hope that the Meijo Asian Research Center will become a valued source for mutual understanding between Japan and Asia and Asian development.