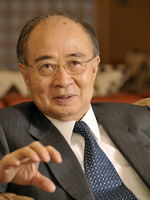 Contributing to Peace and Development in Japan and the World
Honorary Director
Yasushi Akashi
Former Deputy Secretary-General of the United Nations
I am pleased that Meijo Asian Research Center has been reorganized and Meijo International Education and Research Center has been newly established in a timely manner. It is highly important for Japan and Meijo University to further expand global activities.
Currently, the world is at a historic turning point and global issues are becoming more difficult. In addition to the Russian invasion of Ukraine?which is disturbing the international order?many conflicts are taking place, such as the Japan-US and Japan-China relations, the civil unrest problem in Asian and African regions, economic inequality, and terrorism. Finding real solutions to the pandemic caused by the novel coronavirus and global climate change is an extremely difficult task.
We need to plan a desirable future for the politics, diplomacy, economy, culture, and science that stand in our way, choose the available options, discuss our thoughts with people who are trying to achieve this future, and strive to solve problems.
Rather than simply following its own minor national interest, I would like for Japan to think about a better future for humanity and the earth and aim to achieve every step toward that goal. The university's main mission is to foster flexible, open-minded young people who have a truly international perspective and can provide beneficial services and contributions to Asia as a whole and the world, not just Japan.
Many international students study at this university, making it the perfect place for mutual understanding. It is essential to educate and respect international students, carry out international joint research, provide research grants, and strengthen various global exchanges, including academic research. I sincerely hope that Meijo International Education and Research Center contributes to the peace and development of Japan and the world.